Floor Tile and Grout Cleaning Services in Fellsmere, FL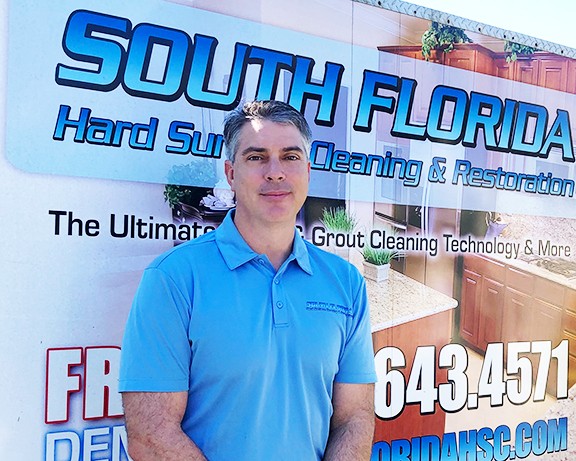 With our focus on Tile, Grout, Carpet, Stone, Travertine, Marble, and Slate, South Florida Hard Surface Cleaning is the professional floor cleaning experts to contact in Fellsmere, FL.
Living in a clean and beautiful home is a priority for most, yet cleaning your floor's tile and grout is a difficult chore to find the time, energy, or the right tools to do successfully. South Florida Hard Surface Cleaning provides an easy and affordable way to clean your home's flooring. A locally owned and operated floor cleaning service, we offer tile, grout, and carpet cleaning along with customizable services to suit your needs. We take pride in paying attention to the smallest of details. Our team will have your floors or other hard surfaces looking spotless in record time. With competitive prices and standards that are second to none, let us show you how fabulous your floors could look by contacting us for a free demonstration. Call South Florida Hard Surface Cleaning at 772.643.4571. While we are there, we can give you an estimate as well.
When you hire us for a residential floor cleaning service, we perform a deep-steam cleaning of the tile and grout. Our process includes a pre-spray which is an eco-friendly, heavy-duty degreaser, with a mild citrus smell. This pre-treatment begins to break up the dirt on the surface of the tile and grout. We then extract the loosened dirt and soil by introducing steam suction and pressure. We utilize a recovery tank that is located in our vehicle outside of your home, removing the dirt completely from your residence. This process removes more than 90% of most stains with relative ease.
We use patented technology that is eco-friendly and we provide a 100% guarantee that you will be more than satisfied with the results of our work.
There are no surprises and no hidden charges. We'll clean your floor or hard surface like it has never been cleaned before!
What we do for Commercial & Residential Tile, Grout and Natural Stone Cleaning Services in Fellsmere, FL
Grout Recoloring: Grout Recoloring is the process in which we put an epoxy acrylic coating on your existing sanded grout joints. After cleaning the grout lines, we paint the acrylic coating on the grout line and let it dry. We then wipe off the excess from the edge of the tile and use an epoxy color seal, not a latex color paint. This process lasts longer and obtains better results. This will not only beautify your grout joints but put a lasting seal on them.
Saltillo Mexican Tile Cleaning:Saltillo Mexican Tile is a type of floor tile in the form of a clay. The tiles are usually baked in an oven to be more coarse, and these tiles behave similar to natural stone, almost like marble or travertine. It can be cleaned and sealed, requiring us to adjust our technique slightly. Natural stone is a softer surface, so we decrease our cleaning pressure between 800-1000 PSI. We utilize a brush ring on our equipment instead of a hard plastic ring to provide the excellent suction without scratching the saltillo tile.
Slate Tile Cleaning:Slate Tile is another natural stone, and while they are attractive, they certainly benefit from regular maintenance and cleaning. Slate Tiles are porous, allowing stains to be absorbed. Slate is a softer natural stone that can be easily chipped or damaged with acids. We use a pre-spray and the brush ring on our cleaning equipment to avoid scratches.
Chipped Tile Repair:We use an acrylic polish for repairing chipped tiles. This polish is a lacquer based product that dries quickly to a very hard finish. We can drip apply the polish with a toothpick and have found it to be the most effective means above other products and techniques for repairing small cracks and chips in tiles.
Grout Mold Removal:Do you have mold in your bathroom, shower, or floor tiles? Grout mold is an unsightly problem and can be a health risk. You can remove it, but it will return unless you clean it thoroughly, eradicate the mold at the roots, and seal the grout and tiles correctly. In our cleaning process, grout mold will be extracted and removed from the home. After the tile and grout cleaning is completed, we begin the grout sealing process.
Commercial Tile and Grout Cleaning: These floors usually require more constant care and regular attention. We utilize a slightly more acidic product while increasing the pressure to obtain a deeper cleaning. We begin our process by applying a pre-spray and scrubbing the grout lines between each tile. Next, we use a state of the art, high-pressure extraction system, which forces the hot water and cleaning solution onto the tile and grout while creating a strong suction that extracts the dirt from the floors.
Commercial Carpet Cleaning: In this service, we know the paraffin fibers for commercial carpet floors are thinner and not as plush or soft when you walk on them. We adjust our pressure accordingly. The process involved includes a pre-vacuum, stain treatment, hot water extraction, and rinse moisture extraction. We are confident we can revive your commercial carpet with a newer look.
Travertine Tile Cleaning:Travertine tile is a natural stone commonly used in floors, countertops, and showers. A soft and porous stone, it is very sensitive to chemicals. This tile is easier to care for when adequately cleaned and sealed. Our process, when cleaning natural stone such as Travertine, is conducted mechanically utilizing the proper equipment that eliminates any damage to the stone. We adjust our pressure to 800-1000 PSI and use neutral cleaners and nothing acidic. We utilize a brush ring on our water extraction equipment to avoid scratches and surface damage. Travertine is similar to Limestone, Marble, and Mexican Tile, which also require a process similar to what is described here.
Ceramic Porcelain Tile Cleaning: To clean porcelain and ceramic tile floors and grout, a commercial water extraction, suction machine, a mop, and an alkaline neutral cleaning solution is required. We apply our solution to the floor using a clean mop and wait several minutes before we begin the extraction process. Because of the way porcelain and ceramic tiles are made, the resiliency is second to none in the tile cleaning industry. We use high pressure on porcelain and tile floors for a successful dirt and grime removal process.
Countertop Cleaning: Depending on the countertop materials installed in your home, we have several solutions available for cleaning and sealing. For vertical and above-ground surfaces, we use a handheld tool attached to our heated pressure water extraction system. We apply a pre-spray, spreading the solution to loosen dirt and grime on the countertop tile grouts. Through controlled heat, pressure, and suction, we make your countertops appear to be new.
Granite Cleaning:Since Granite is a natural stone, dirt is naturally going to accumulate and sit in its pores. Because the dirt is hard to remove on these surfaces it requires a deep steam cleaning process. We utilize an impregnating sealer which seals the pores of the stone, minimizing future damage and wear, and enabling an easier cleaning process in the future for maintaining the stone.
Grout Color Seal Removal:If you need to remove a grout color seal, it means the grout has previously been painted, and it's starting to peel. The removing a color seal involves the same process utilized for cleaning tile and grout with the exception of increased pressure. Instead of 1200 PSI we may use 1500 PSI, and if that isn't successful, we then incorporate a HomeRun Acidic Product into our process.
Pet Stain / Odor Removal:We are frequently asked about our special techniques for pet stains and odor removal. Sometimes the correct answer may be to replace your carpet. We have had frequent success with new pet enzyme treatments to remove pet urine and feces stains. Additionally, we have an assortment of specialized products at our disposal to address your particular stain or odor. We spot-treat the carpet prior to our pre-spraying process and hot water pressure extraction.
Rug Cleaning:We also offer rug cleaning. We service natural fiber, synthetic fiber, linen, and wool rugs. The difference in our cleaning process varies according to the fibers and with the cleaners we incorporate before the hot water extraction process.
Moving Services for Floor and Tile Cleaning:When you sell your home or are simply moving out of a space, our floor, tile, and carpet cleaning professionals can come in to your floors and carpeting look like new. We provide grout sealing and recoloring on new construction homes prior to anyone walking on the surfaces or moving in.
Shower/Bathroom Tile Cleaning: Vertical surfaces such as walls or shower-walls, require utilizing a different handheld tool. The process involves a pre-spray to treat the soiled surfaces and then the appropriate handheld tool to incorporate the steam suction pressure with 1200 PSI. Using an additional smaller handheld tool, we do the caulking around the shower and tub as needed. We remove the old caulking and clean the tile and grout first, then re-caulk, seal, and create a complete shower refurbish.
Carpet Cleaning: We start by performing a dry soil extraction through pre-vacuuming all areas of the carpet with a commercial vacuum cleaner. We remove about 80% of all the dry soil and dirt before beginning the pre-stain treatment. We treat all stains by hand to ensure complete removal of treatable stains. With our unique cleaning solution, we break down those dirt particles, viruses, and bacteria that have accumulated over time. Our cleaning products are eco-friendly, baby, and pet safe. We pre-spray all areas of the carpet next to ensure complete coverage. Next, we incorporate the hot water extraction during the agitation phase, introducing hot steam and suction while brushing the solution into the carpet fibers, loosening the dirt. The rinse and extraction process involves using one of the best carpet cleaning machines on the market. We use pure water to rinse the carpet while extracting about 95% of the moisture. This process leaves your carpets freshly cleaned and dried within 3-5 hours.
Our Commitment Is To Clean & Restore Your Floor
Planning is a paramount part of the home building process, once you have taken out that construction loan, indecisiveness and delays cost huge overruns. That's your equity that you want in your pocket and not spread out over your job.
Keeping your family healthy begins at home. Everyday surface cleaning is important, but for a complete cleaning of your floors, tile, grout and carpeting, you need the professionals. Our team uses the right equipment and up to date cleaning processes to remove the stains and hard to clean soils from all flooring surfaces in your home. At South Florida Hard Surface Cleaning, we are committed to customer satisfaction. With competitive prices, superior quality, and outstanding customer service, you can trust South Florida Hard Surface Cleaning in Fellsmere, FL to make your home more beautiful and comfortable. We offer free in home estimates. Take a look at our reviews and call us at 772.643.4571 for an estimate or to schedule your floor cleaning.

South Florida Hard Surface Cleaning & Restoration
15 N. Oak St. #1342
Fellsmere, FL, 32948
772.643.4571